Vincenzo Zingone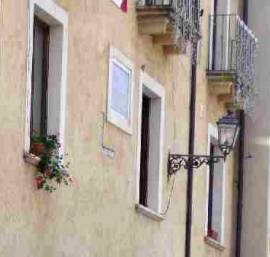 Vincenzo Zingone was the son of Tommaso and Teresa Lanfre and was the grandson of Gaetano Zingone. His grandmother's (Gaetano's wife) name is still unconfirmed at this time. Vincenzo was born about 1791. In 1814 Vincenzo married Rosaria Arturi .
Vincenzo Zingone died in 1841. His death record can be viewed here. His death was reported by his brother Andrea and his neighbor Luigi Folino. He died in his house in the contrada of Parantoro. His death record lists his age as 50. You can read about Vincenzo's father, mother and siblings here.
Rosaria Arturi
Rosaria Caterina Arturi was born 30 May 1795 in the Santa Maria La Castagna section of Montalto. Her baptism record can be viewed here. The baptism record shows her parents are Saverio Arturi, son of Giovanni Arturi and her mother is Teresa Passarello, daughter of Lorenzo. Her Godparents listed on this church record list her Godfather as Giuseppe Folino and her Godmother as Vittoria Suriano. Other marriage documents of Vincenzo and Rosaria support this information.
The oldest documents we have for Montalto are the Catasto records done in 1748. The "Catasto" records were completed in Montalto in 1748 and done for the purpose of taxing the citizens.b Because Rosaria's father was born 2 years after the Catasto was done and we have no supporting documents that state her mother's name currently, we cannot be certain, however, there was only 1 Giovanni Arturi listed in the Catasto. He was listed as being 38 years old making his year of birth about 1710 and was married to Diana Luchetta who was 36 years old. In 1748 they had 4 children. The children were Angelo aged 5, Giulio age 3, Innocenza age 8 and a newborn son named Francesco. The record can be viewed here.
The Children of Vincenzo and Rosaria
So far I have found 8 children for Vincenzo and Rosaria.
Note: I have heard from several Zingoni families in Argentina. A family story was passed down about an orphan child named Giuseppe who was taken in by Vincenzo and Rosaria and raised as their own child. They knew the name of Giuseppe's wife was Angela Perri. Giuseppe was not adopted by this family. Giuseppe was actually born into a Zingone family, however his father was an orphan. Giuseppe was the son of Gabriele (Esposito) Zingone and Rosaria Napolitano.
A list of the children of Vincenzo and Rosaria is below.
Giuseppina Born 1818
Married: Saverio Sannuto and Luigi Chimenti
Antonio Born: 1823
Married Francesca Golletta
Caterina Born: 1824
Married Luigi Maria Lauria
Luigi Born: 1826
Married : Rosaria Chiapetta
Saverio Born: 1829
Married Maria Fullone
Maria Carolina Born: 1831
Married: Fedele Arturi
Pasqualina
Mariantonia Born: 1840
Married: Pietro DiTommaso