Vincenzo Riso
And his wife Letizia Napolitano
Vincenzo Riso was born to Diego Riso and Angela Salerno in 1861. In 1878 the 27 year old Vincenzo married the 20 year old Letizia Napolitano. Vincenzo Riso died on 10 December 1925 at the age of 64.
Letizia Napolitano was born on 7 May 1858 according to her birth act. She was the daughter of Costantino Napolitano and Pasqualina Aiello. Letizia Napolitano died in Montalto Uffugo on 17 September 1938 at the age of 80.
In 1881 their first child Salvatore was born. I know I am probably missing children but have listed the children I did find below.
Salvatore Born 1881
Angela Born 1882 died 21 Jul 1944
married Vincenzo Santoro
Maria Francesca Born 1887 Died 1895
Carolina Born 1890 died 1955
Gabriele Francesco Diego Born 1892
Filomena born 1898
Married Giuseppe Marrelli
Amalia Born ?
Married Fiore Salerno
More about the children
of Vincenzo and Letizia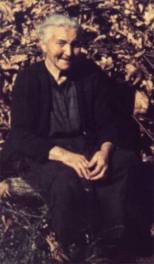 Amalia Riso, pictured here married Fiore Salerno and raised her own family in Montalto Uffugo in the Caldopiano frazione. She is remembered fondly by her grandchildren as always having candies in her pockets for them.
Salvatore went to the United States in 1902 at the age of 21. He was the only person on the ship, The Nord America, from Montalto Uffugo so he travelled alone. It is interesting to note that his ship sailed from Genova and not Napoli like most others who came to America from Montalto Uffugo. I believe at some point he returned to Montalto Uffugo.
Angela Riso married Vincenzo Santoro and had 3 sons that I know of so far: Andrea (born 1901), Emilio Antonio (born 1903) and Giuseppe (born 1905). Angela died in Montalto Uffugo on 21 July 1944.
Filomena Riso was born in July 1898. She married Giuseppe Marrelli and lived in Santa Maria La Castagna frazione of Montalto. She had at least 3 children with her husband Giuseppe Marrelli. Because these children may still be living, I will not list their names or dates of birth here.
View a page about Letizia's family here.
View a page about Vincenzo's family here.