Francesco Nicastro and Isabella Fullone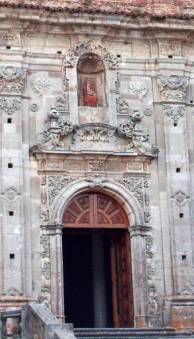 After the death of his first wife, Caterina Scarlato, Francesco Nicastro married Isabella Fullone. The marriage occurred on 23 December 1823. When they married Francesco was 44 years old and Isabella was 41. This marriage produced two daughters. Maria Pasqualina was born 28 September 1824 but died a few months later. On October 3, 1829 their daughter Caterina Nicastro was born. Caterina married Filippo Napolitano and had 11 children with him.
Isabella Fullone died on 14 November 1861 in the Parantoro section of Montalto. A little longer than a month later, her husband Francesco Nicastro died on Christmas Day, just 2 days after the 38th wedding anniversary of Francesco and Isabella. It should be noted that the name of Francesco's mother on his death act is incorrect. His mother was Stella DiLio which is recorded correctly on several documents including the church records of Francesco's birth here .
Isabella Fullone
Isabella Angela Fullone was born on 1 October 1782 in the Santa Maria La Castagna section of Montalto. Her father was Saverio Fullone and her mother was Eugenia Filippo. In various documents the name of Eugenia is DiFilippo, DeFilippo and Filippo.
Luigi Calomino
The first husband of Isabella Fullone was Luigi Calmino. Their marriage occurred sometime before 1809. Luigi Calomino was born in the Santa Maria LaCastagna section of Montalto according to his death record. His father was Andrea Colomino who died sometime before Luigi. The name of his mother according to the extraction of his death was Chiara D'Elia but that is incorrect. Her correct name was DiLio not D'Elia.
Luigi and Isabella were married prior to 1809 when the state civil records began. Their first child was born in 1808 so they would have been married in 1808 or earlier. Luigi Calomino died on 26 March 1821. Prior to his death, Luigi and Isabella Fullone had 7 children together. Out of the 7 children, only 3 survived to adulthood. Three sons died in infancy and one died at the age of 6. Their children are listed below.
Giuseppe Antonio 1808-1809
Giuseppe Antonio 1811-1811
Gennaro 1812-1819
Gaetano Raffaele 1815-1815
Saverio 1816-?
Married Chiara Saullo
Maria 1818-?
Gennaro 1820-?
Married Caterina Scarlato
You can view a page with the processetti documents of Francesco and Isabella here.