Gaetano DiSeta and Maria Teresa LaValle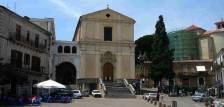 Gaetano DiSeta was born in Montalto Uffugo in 1781 in the Vaccarizzo frazione of Montalto. His parents were Pasquale DiSeta and Rosa LiPreti.
Since the records I have access to begin in 1809, I may have missed a few of their children, however I did find 7 children of Gaetano and Maria Teresa. Gaetano DiSeta died in October of 1831 at the age of 50.
The Children of Gaetano and Maria Teresa
I have found 7 children of Gaetano DiSeta and Maria Teresa LaValle. Several of them have their own pages that you can view by clicking on their name. The children are listed below.
Serafina Born 1808 Died 1850
Married Giuseppe Speranza
Vincenzo Born 1809 Died 1849
Married Serafina Lanfre
Pasquale Born 1810
Married Caterina Garrafa
Francesco Maria Born 1814
Married Chiara Napolitano
Pietro Born 1820
Maria Maddalena Born 1824 Died 1862
Married Gaetano Muglia
Rosa Born 1818
Married Costantino Chimenti
Gaetano's Ancestry
Gaetano's father was Pasquale DiSeta. Pasquale was born in 1757 in Montalto and he died in 1822. He was married to Rosa LiPreti. Nothing is known about her family at this time.
Pasquale's father was Giovanni DiSeta who was born about 1712. His mother was Rosa Scarlato who was born about 1720. I have found their family in the Catasto here. It lists thier children as Rosa age 7, Anna age 4 and Teresa age 2. Since Pasquale was born a few years after the Catasto was done he is not mentioned here. The family is living in Parantoro here on the property of Innocenza Romano. Giovanni is listed as originally coming from Baccarizzo (now called Vacarizzo). There is also a mention of a Giovanni Scarlato in this document who may be a family member of Rosa. Since no records exist that go back any further, this is as far back that we can go for this DiSeta family.
DeSeta Index
On the right side of this page you will see a linked list to all pages about the DeSeta families on this website.