Costantino Chimenti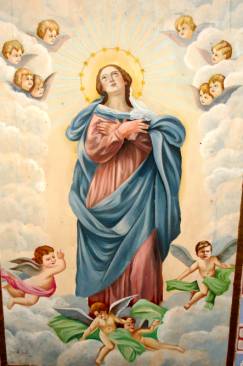 Costantino Chimenti was born with the full name of Domenico Costantino Chimenti in October, 1812 in the Vaccarizzo section of Montalto Uffugo. His father was Fedele Chimenti and his mother was Carmela Lanfre. Costantino was a property owner and miller by profession. In July, 1831 he married Maria Rosa DiSeta. Together they had 11 children. Besides raising 11 of their own children, Costantino and Rosa took in the orphaned children of Rosa's older sister Serafina DiSeta and her husband Giuseppe Speranza. I found the evidence of this in two of the children's marriage documents. You can read about this on their web page here .
The Children of Costantino and Rosa
Fedele Fortunato Born 1833
Carolina Maria Born 1835 Died 1867
Married Pietro Napolitano
Maria Teresa Born 1838
Married Arcangelo Napolitano
Maria Filomena Born 1840
Filberto Achille Born 1843
Leopoldo Ferdinando Born 1845
Agnesa Born 1847 Died 1848
Agnesa Enrichetta Born 1849
Married Gennaro Garrafa
Eugenio Ottavio Born 1851
Giulio Cesare Born 1854
Errico Cesare Born 1856
Maria Rosa DiSeta
Maria Rosa DiSeta was born in the Vaccarizzo section of Montalto Uffugo in December, 1816. Her parents were Gaetano DiSeta and Maria Teresa LaValle. You can read about them here .
Costantino & Rosa's Descendants
Carolina Maria Chimenti & Pietro Napolitano
Carolina Maria Chimenti married Pietro Napolitano on August 21, 1850 in Montalto Uffugo. She was 15 years old when they were married. Carolina and Pietro had 7 children together. Carolina died at the age of 32 in 1867 shortly after the birth of their last child.
Pietro Napolitano was born in 1827 in Montalto Uffugo to Vincenzo Napolitano and Stella Nicastro. Pietro made his living as a miller. After the death of his wife Carolina, he married Maria Stella Palmire in 1870. Pietro died in December, 1902 in Montalto Uffugo. The children of Carolina Chimenti and Pietro Napolitano are listed below.
Alfonso Born 1853
Married Maria Mantuano in 1878
Francesco Saverio Born 1854 Died 1872
Fiore Born 1857
Married Carolina Grano in 1879
Fedele Fortunato Born 1858
Married Rosaria Bruno in 1877
Alberto Luciano Born 1860
Maria Rosa Born 1864
Married Giovanni Garrafa
Carolina Born 1867 Died 1869
Maria Teresa Chimenti & Arcangelo Napolitano
Maria Teresa Chimenti married Arcangelo Napolitano in 1854. Together they had 11 children. Arcangelo was born in 1826 and was the son of Francesco Napolitano & Maria Zingone. Arcangelo died in 1902. I do not know when Maria Teresa died. Listed below are their children.

Angelina Born ?
Married Michele Aurillo
Massiminia Born 1859 Died 1859
Giovannina Born 1860 Died 1860
Maria Concetta Born 1856 Died 1910
Married Gennaro Garrafa
Francesco Born 1861
Married Maria Teresa Filomena Garrafa
Alberica Marina Born 1864
Marianna Angelina Born 1866
Pampilio Gennaro Born 1872
Romualdo Born 1873
Married Adelina Chimenti
Annunziato Fedele Born 1886 Died 1889
Fiorigga Cristina
Agnesa Chimenti & Gennaro Garrafa
Agnese Chimenti was born in 1849. In May of 1865 the 20 year old Agnese married Gennaro Garrafa. Although I have not found her death record yet, I know she died between 1871 and 1874.
Gennaro Garrafa was born on March 31, 1847 in Montalto Uffugo to Antonio Garrafa and Maria DiCiancio. His father died shortly before his marriage to Agnesa. After the death of his young wife Agnesa, Gennaro married Maria Concetta Napolitano in 1874.
Listed below are the children of Gennaro Garrafa and Agnesa Enrichetta Chimenti.
Maria Luisa Garrafa Born 1868
Antonio Garrafa Born 1870 Died 1873
Maria Teresa Filomena Garrafa Born 1871
Married Francesco Napolitano